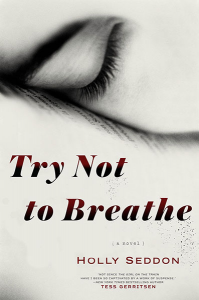 If your book club or reading group is planning to read Try Not to Breathe, these questions could help you discuss the book. If you'd like Holly to join your book club for a Q&A via Skype, do get in touch.
From the beginning of the novel, we know Alex Dale is an unreliable narrator. Did this change the way you perceived the information you were reading?
Music plays an important role in Try Not to Breathe. It's how Alex communicates with Amy, and in the flashbacks Amy connects songs with how she is feeling. Could you relate to Amy on that level?
Fiona is frustrated with Jacob's lying while he goes to visit with Amy. Do you think this is justified? What would you do if you were Fiona and you found out about Amy?
Amy is the catalyst for Alex's shift in behavior, but do you think that's the only reason? What other influences can you point to that may have helped her make the change?
Were you surprised when you found out who attacked Amy? At any point were you convinced it was a different character?
Try Not to Breathe is told from multiple perspectives – it switches from Alex to Amy to Jacob, and even Jacob's mother, Sue. Do you like this style of writing? Which character's perspective was most interesting to you?
Alex and Jacob pair up in the second half in the novel to try to solve Amy's mystery together. What do you think about their relationship? Are they a good team?
A lot of Amy's thoughts are relayed through dreams and give us insights into her past. Did you like this method of communication? What do you think of Amy's condition? Did it pique your interest?